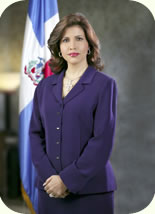 Dr. Margarita Cedeño de Fernández was born in Santo Domingo, Dominican Republic. Her parents, Mr. Luis Emilio Cedeño and her mother, Mrs. Margarita Lizardo de Cedeño have another son, Mr. Luis Alfredo Cedeño Lizardo.
Dr. Cedeño de Fernández obtained her degree in law at Universidad Autónoma de Santo Domingo (UASD), the first university of the New World, in the year 1987. She graduated Cum Laude. She later attended the Pontificia Universidad Católica Madre y Maestra (PUCMM) for her Masters Degree in Corporate and Economic Law, where she graduated Magna Cum Laude. She has also studied Conflict Resolution and International Legal Negotiation at Georgetown, Harvard and Geneva Universities.
Prior to her public work, Dr. Cedeño worked as an attorney and partner at "Dr. Abel Rodríguez y Asociados" one of the most prestigious law firms of the Dominican Republic.
Her public career began in 1996 when she worked as Legal Advisor to the President of the Dominican Republic until the year 2000. During these years she also held the position of ad Honorem Advisor and Director of the Legal and Investment Environment Management of the Office for the Promotion of Foreign Investment of the Dominican Republic.
She is married to the President of the Dominican Republic, H.E. Doctor Leonel A. Fernández Reyna and they have a daughter, Yolanda América María, who just celebrated her third birthday. Dr. Cedeño de Fernández is also the mother to two teenagers, Ramón Emil and Gabriela Angelissa Fiorentino Cedeño, from a previous marriage.
Dr. Cedeño de Fernández assumed her official duties as First Lady of the Dominican Republic on August 16th, 2004, when her husband, H.E. Dr. Leonel Fernández Reyna, took his oath as President of the Dominican Republic for the period of 2004-2008.
The First Lady's office executes and coordinates the social programs developed by President Fernández. Her office operates its own projects as well, concentrating in four fundamental areas: education, technology, social solidarity and family development. These initiatives are carried out throughout the entire Dominican territory, even in the most remote villages.
Progresando is one of the mechanisms created by the office of the First Lady designed to empower families living in extreme poverty. Through a series of programs, issues such as health, training and education, personal human growth, housing and economic sustainable developmentare confronted.
Dr. Cedeño de Fernández's regards women's subject matter as a priority, addressing problems such a female violence, discrimination and inequity.